Korean Dol Ceremony | Danbury, CT
Ever since I photographed a Korean Dol Ceremony for a first birthday at my Newington, CT photography studio, I truly loved everything about this tradition! One of my favorite photos from this photoshoot is still hanging in the stairwell heading down to the studio and everyone always comments how lovely that it is. When I was give another opportunity to work with a Korean family for a family ceremony event, I was very happy to participate and give them beautiful photos to enjoy to commemorate this special occasion. This time, I traveled to a rent home in Danbury, CT where everything was set up for us in advance. The home was the perfect setting for event photography as it had beautiful natural light throughout, large windows, and plenty of room for the entire family to participate. The main living room was set up with a background and traditional table filled with the decorated cake, flowers, props, candles, baby's photo, and the Dol board of items. Baby will later choose from these and they believe whatever they choose will signify something about their life in the future (job, prosperity, education, etc). After arrival, I found out the start of the show was still napping, so I spent the time photographing all of the special details for the family to enjoy later. They had decorated the event beautifully with balloons, pictures of the baby each month of her infant stage, etc. Once baby was ready to be photographed, we took some family portraits and then proceeded to the ceremony itself. Baby was a little bit hesitant, but she eventually choose a few items with her big sister and parents watching along with the rest of the family. We then moved on to cutting the cake, the grandparents presented some Tibetan and Korean items to her, and other family members presented gifts as well. A traditional Korean lunch arrived for the family to enjoy which ended our time together. I was so happy to give this family beautiful photos to enjoy of their special day! Here are some of their many favorites below. Did you know? The Flash Lady Photography loves to photograph your special birthday, family reunion, or other type of event as our schedule allows. Please contact us at least 4-8 weeks in advance when possible to ensure availability.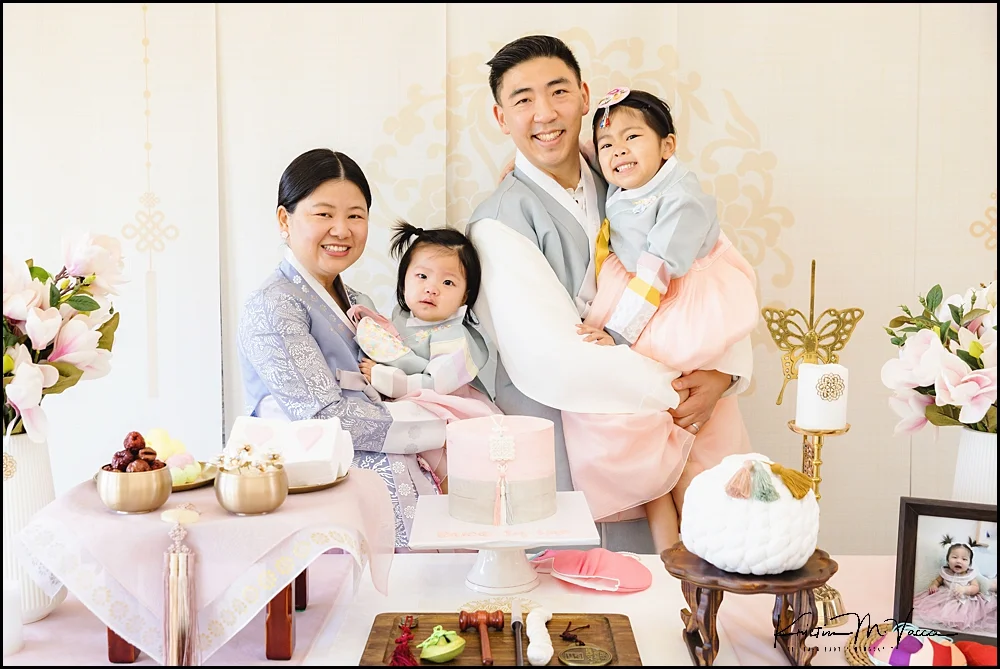 The Flash Lady Photography is a full service studio located in Greater Hartford specializing in maternity, newborn, baby, child, and family photographs. We create special memories out of your lifecycle events including creative maternity and newborn sessions, personalized first birthday celebrations and cake smashes, and family and holiday portraits! We also support local small businesses and professionals with custom headshots for your professional needs. We are conveniently located in central Connecticut with easy access to major highways and plenty of on site parking. Please use our website contact form to contact us about planning your special photography session! We look forward to working with you!