The Magic Of Christmas in CT With The Flash Lady Photography
We are busy planning for Christmas 2023! Sign up for our Newsletter for 1st dibs when booking goes live! Typically end of August!
The holidays are a magical, special time of the year, and The Flash Lady Photography is excited to announce the return of our custom Christmas Photo Sessions! Bring the whole family for a unique holiday experience, have the kids meet Santa Claus himself, take that beautiful family Christmas card, or get your pets in on the fun. 2022 Theme: "A Farmhouse Christmas". Picture an antique barn and tractor, a weathered porch overlooking the evening of the day on the farm…just in time for Christmas! We can even do your Christmas Cards & photo gifts! Let us take care of the holidays with photos you'll remember and experiences your kids will never forget! 3 Opportunities this season!
Availability is extremely limited and appointments fill up fast - as such, payments are non-refundable and must be paid upon booking.
Bring the whole family for that perfect Christmas card!
The magic of meeting Santa the way it was meant to be.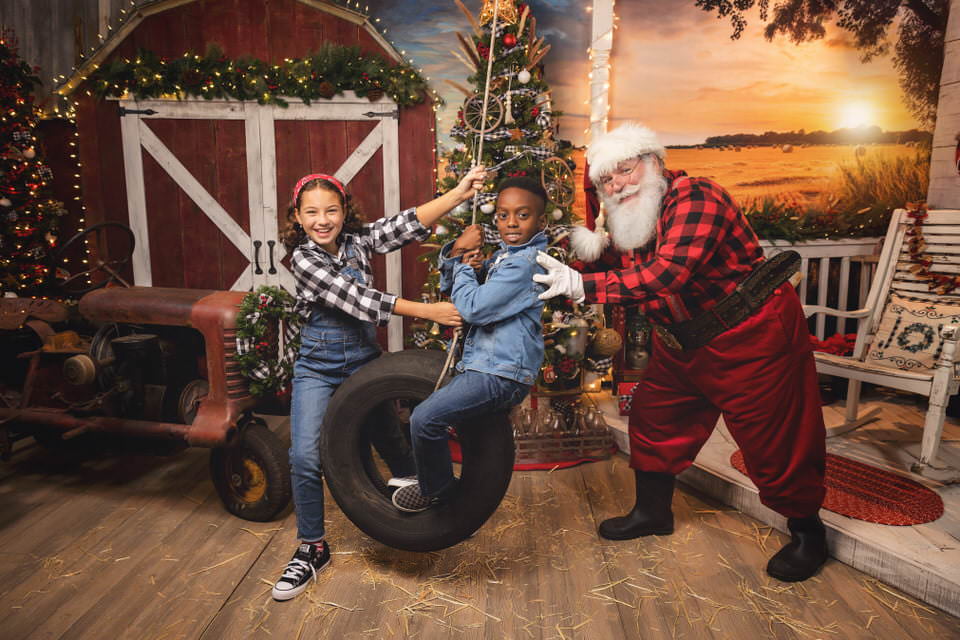 Holiday Photos The Way They Should Be
The Santa Experience - 11/5 & 11/11/23
Bringing A Little Extra Magic To The Christmas Season
Santa is coming to town - and we're rolling out the welcome wagon for the 8th year with our custom, handmade sets that are sure to inspire a little extra Christmas magic!
The Santa Experience package offers you and your children up to 10 minutes with Santa - far more than you'll ever get at the mall. Let your children get up-close-and-personal with jolly St. Nick and create treasured photos and memories that will last long after the tree and decorations come down. *Although Santa is fully vaccinated, clients may opt for a variety of ways to spend time with him safely! We are open to these options!
5 digital files chosen from a larger gallery are included in this package, with the option to upgrade for additional files and products to complete your holiday experience!
Starting at $275 + tax. Upgrades also available. 
Christmas Sessions Families - 11/18/23
Family Christmas Portraits That Are Fun, Not Frustrating
Holiday greeting cards are a cherished tradition for many families, and deserves a little extra love and attention than your typical cellphone selfies.
The Family Christmas Session package allows for up to 15 minutes and 5 high-quality, edited digital files chosen from a larger gallery that will stand out on even the most decorated mantles. Get the whole family in on the photos, or let your children be the stars of the session. *Well behaved Pets are also welcome!
Santa will stick to the sidelines, but the Spirit of Christmas will be on display for all to see with a custom Christmas set you won't find at a mall or department store.
*Starting at $275 + tax. Upgrades also available.