Pink Paint Smash | Southington, CT
I have been so fortunate to work with this family over the last few years and through both of their children. Newborns photos, birthdays, holiday sessions – we've done it all! Each one is a special memory that their parents are going to enjoy for a long time, and then, pass down to each of them! This time it was little sister's turn for a Pink Paint Smash! Paint smashes are unique to our studio and we're one of the few that allow kids to really get messy at the toddler stage and have fun doing it! This next birthday theme is great for their development while also allowing for all of those amazing looks and smiles when they can't believe they're allowed to do it! This sweetie is much more adventurous than her older sister, so we knew this session type would be perfect for her. We started out with some simple portraits before getting messy just to make sure Mom had some nice ones for the wall. Then, it was time to take out the paint! Sticking with a pint and purple color scheme, we put the paint out and let her go. Was she excited? Find out below! As she worked through each of the paint colors, explored brushes and rollers, and even painted herself, these sessions types allow for fun and a unique color palette each time. I just love how her photos came out and look absolutely gorgeous in our heirloom signature album with corresponding digital files! Let us help you celebrate your child's birthday today (and get a little messy too)!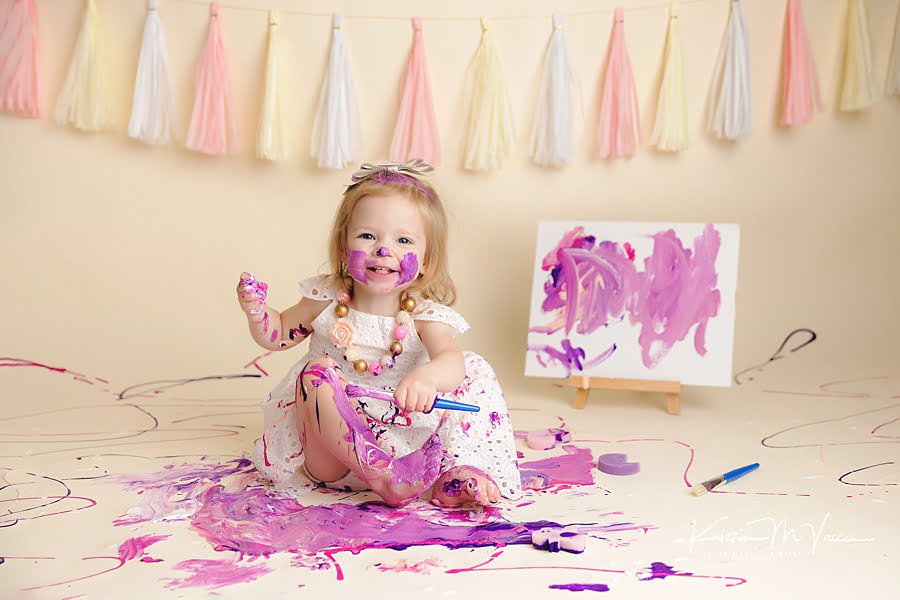 The Flash Lady Photography is a full service studio located in Greater Hartford specializing in maternity, newborn, baby, child, and family photographs. We create special memories out of your lifecycle events including creative maternity and newborn sessions, personalized first birthday celebrations and cake smashes, and family and holiday portraits! We also support local small businesses and professionals with custom headshots for your professional needs. We are conveniently located in central Connecticut with easy access to major highways and plenty of on site parking. Please use our website contact form to contact us about planning your special photography session! We look forward to working with you!