Blue Balloon Cake Smash | Rocky Hill, CT
When this Mom was trying to decided on a cake smash theme for our session together, she original came across one of our new hot air balloon cake smashes for this baby girl. She loved it so much that she asked if I could do a blue balloon cake smash for her son instead! And I don't blame her – the combination of simple yet timeless colors and textures make this a popular theme decision! I also decided to set up a secondary simple scene on the other side of my Newington, CT photography studio to try and make him appear to be in his own hot air balloon! This little man was so cute, and he not only loved balloons, but his cars too! Sometimes, we have to incorporate their favorite toys to make the session work as well – and that's ok! A lot of toddlers are exploring their new environments and skills, and they aren't as interested in what we want to do! But with some patience and allowing them to be in control for some things, we still come up with a beautiful session! His parents loved the photos that we created, and they came out so beautifully in an heirloom album! Enjoy some of their favorite photos below, and don't forget, it's best to plan with us about a month in advance a least so we can put your desires together for this special birthday!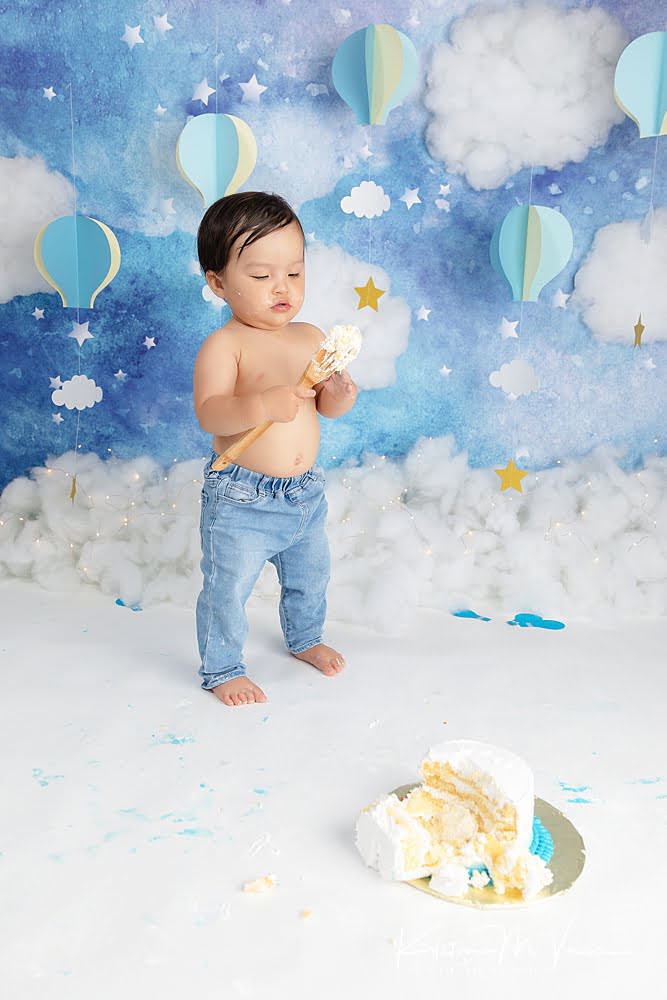 The Flash Lady Photography is a full service studio located in Greater Hartford specializing in maternity, newborn, baby, child, and family photographs. We create special memories out of your lifecycle events including creative maternity and newborn sessions, personalized first birthday celebrations and cake smashes, and family and holiday portraits! We also support local small businesses and professionals with custom headshots for your professional needs. We are conveniently located in central Connecticut with easy access to major highways and plenty of on site parking. Please use our website contact form to contact us about planning your special photography session! We look forward to working with you!