Blue Paint Smash | West Hartford, CT
The paint smash! One of my favorite types of birthday sessions for little ones. Why do you ask? There is just something about the perfect combination of mess and fun that really draws out the personality and joy from each child in a developmentally appropriate way. Kids aren't going to just sit there and pose, especially at the younger ages. They need something enticing and interesting to get them involved and it's up to ME to capture the result! You might remember this little guy from his Wizarding World of One cake smash last year (which he also loved!). This time we booked a blue paint smash for his summer birthday and I couldn't wait to see how he would do! His parents were also very excited to see how this came together. After some initial clean portraits (how precious is he hugging that #2 balloon?!), we dove into some paint! With a few varieties of blue and white, this allowed for some exploration and mixing (without turning brown like having too many colors together can do!). He just couldn't believe his good fortune of being allowed to make a mess, and looked SO cute doing it! I always love to have clients paint a small canvas to take home as a keepsake, and then move on to painting themselves and the (paper) area around them. This allows for me to introduce fun paint tools a little at a time to keep the interest going. Parents cane even get involved if they dare! At the end, just like with cake, we take a little bath to clean off so he was ready to head home. I'm sure you'll agree that his photos below are absolutely adorable, and luckily they have another gorgeous album with corresponding digital files to look through whenever they want to! Let us help you celebrate your child's birthday and contact us today!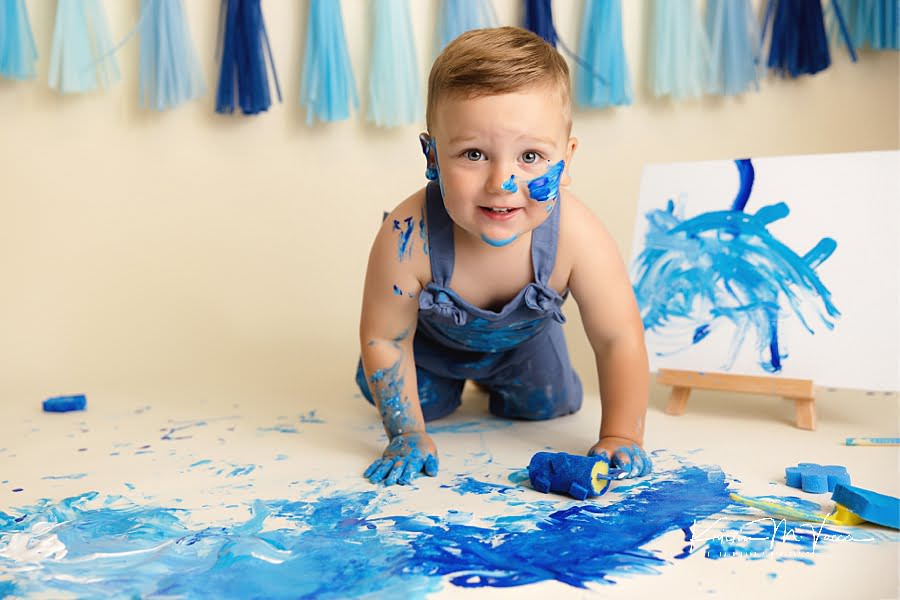 The Flash Lady Photography is a full service studio located in Greater Hartford specializing in maternity, newborn, baby, child, and family photographs. We create special memories out of your lifecycle events including creative maternity and newborn sessions, personalized first birthday celebrations and cake smashes, and family and holiday portraits! We also support local small businesses and professionals with custom headshots for your professional needs. We are conveniently located in central Connecticut with easy access to major highways and plenty of on site parking. Please use our website contact form to contact us about planning your special photography session! We look forward to working with you!