Studio Family Maternity Photos | Wethersfield, CT
More studio sessions this winter to share! Starting with this absolutely gorgeous studio family maternity photos using our Annual Review Plan! This is perfect for families hoping to get multiple sessions in the same year and spreading their budget to capture all of the beautiful moments! With little one #3 (a boy!) on the way, Mom & Dad decided that since life hadn't allowed for them to capture photos professional in the past, that it was time to start now! And I'm so glad that they reached out to me! Originally Mom had come across my information around Christmas time and hoped to see me then. But we sell out FAST! So I'm so glad that she stuck with me and reached out again in advance to work on getting these sessions booked! The whole family came to my Newington, CT studio and when siblings are involved with a maternity session, we like to make sure they get some special photos just with Mom as well. And these 2 sisters are some of the most beautiful and polite you'll ever meet! We took some stunning pictures of them with Mom, together as a family, and then just of Mom and it was so hard to choose favorites! Utilizing 2 different backgrounds and outfits and also incorporating some backlit images for variety, they really had a lot of great images to choose from. Perfect for one of our Signature Albums to tell a story! I love how it came together and it's going to be even more amazing when we see them back in the studio for baby brother's newborn photoshoot in just another month or 2! Here are some of their favorite choices from their studio family maternity photos and let me know which one is your's! Don't forget to contact us about planning in your 2nd trimester, and our gift cards are  perfect shower and sprinkle gifts for someone expecting too!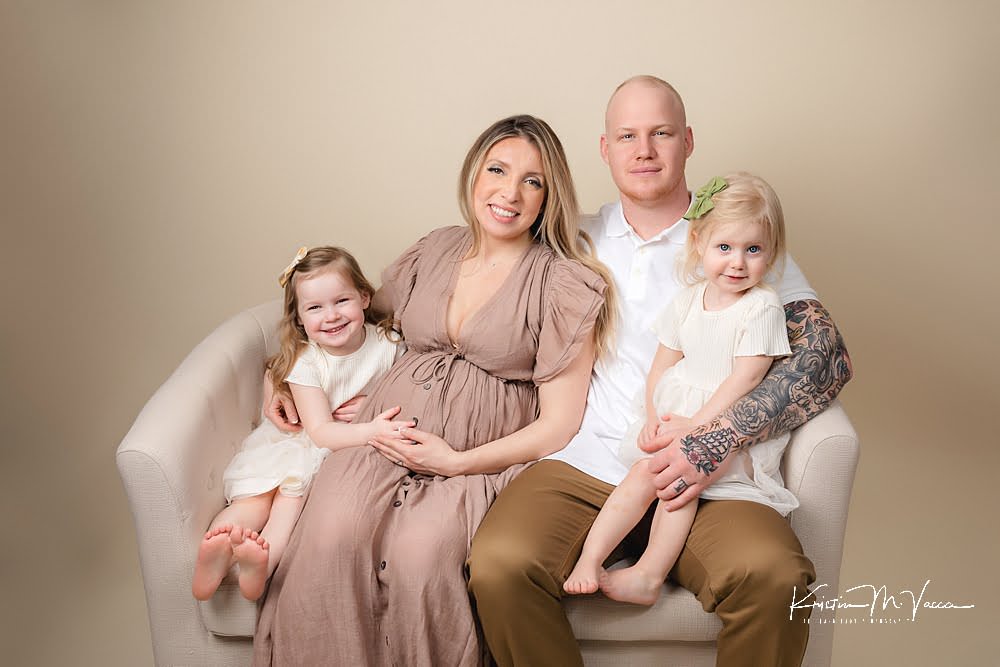 The Flash Lady Photography is a full service studio located in Greater Hartford specializing in maternity, newborn, baby, child, and family photographs. We create special memories out of your lifecycle events including creative maternity and newborn sessions, personalized first birthday celebrations and cake smashes, and family and holiday portraits! We also support local small businesses and professionals with custom headshots for your professional needs. We are conveniently located in central Connecticut with easy access to major highways and plenty of on site parking. Please use our website contact form to contact us about planning your special photography session! We look forward to working with you!