Fruit Cake Smash | Rocky Hill, CT
Another one of my Lifetime Plan graduates is 1! Time just flies by SO fast and I always tell my clients they'll blink and before they know it their babies are 1! We've spent the last year+ getting to know this adorable family, first with maternity portraits in our Newington, CT studio, then with newborn photos after baby was born, and now it was time for her fruit cake smash to celebrate her first birthday! What a fun morning we had with this new and unique cake smash theme! Mom was hoping to have something with all fruit and she even made the cake herself to match my set! I love putting together custom themes with real props to match your child's personality and likes and boy was this theme perfect for her! We started off with some pre-cake portraits and she gave us tons of smiles playing with balloons like it was the best day of her life! Then it was cake time, and while fruit is definitely a bit different for a smash than a regular cake with frosting, this girl LOVES her fruit! We carefully watched her try all of her favorite berries and get sufficiently messy before moving on to bath time. This gives us not only a chance to clean off, but play with bubbles and rubber duckies and get a few more photos in as well. We had such a great time seeing her again for her last photoshoot in the plan, and look forward to another future session together to see how much she has grown! Don't forget to contact us around 4-6 weeks in advance for best availability and to start planning your birthday photoshoot!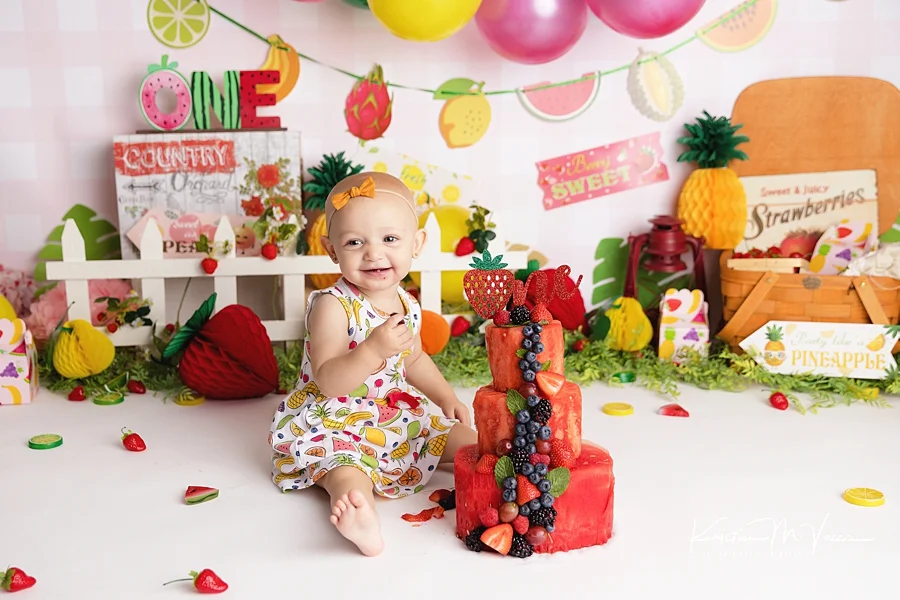 The Flash Lady Photography is a full service studio located in Greater Hartford specializing in maternity, newborn, baby, child, and family photographs. We create special memories out of your lifecycle events including creative maternity and newborn sessions, personalized first birthday celebrations and cake smashes, and family and holiday portraits! We also support local small businesses and professionals with custom headshots for your professional needs. We are conveniently located in central Connecticut with easy access to major highways and plenty of on site parking. Please use our website contact form to contact us about planning your special photography session! We look forward to working with you!