Neutral Boho Cake Smash | Newington, CT
Someone is 1! I can't believe it's been a year since we first welcomed this little girl to the studio for her newborn session, and then her 6 month sit up session. Our Annual Review Plan is the perfect way for families to get multiple milestones captured in baby's first year. And you'll have a full series of photos and products to enjoy from each appointment to cherish forever! Now as we celebrated her first birthday, it was time for her neutral boho cake smash session! Mom & Dad really liked this theme as have so many others. It's the perfect mixture of neutrals and subtle color. With a beautiful cake from Betty's Cake Creations in Cromwell, we had our set complete and ready for her to arrive! Since we've celebrated so much with her, I created another simple set on the other side of the studio for her pre-cake portraits using some new backgrounds that went perfectly with our theme! She just loved flashing those big smiles and playing with the balloons. So much so, that when it was time for cake, we were a little confused why we weren't playing anymore and eating instead! Some babies just aren't as into messy play yet – especially if they don't have a lot of experience with finger paints, etc. But that's ok! It's a big reason why cake smashes aren't just about the cake so that parents leave with a beautiful gallery no matter what! After some cake exploration, we moved on to the bath and for someone who doesn't like getting messy, she was totally fine splashing around and getting water all over my studio instead! 😉 I was so happy to work with this family for her first year, and I love the images that we've been able to create together. Enjoy some of her many favorites!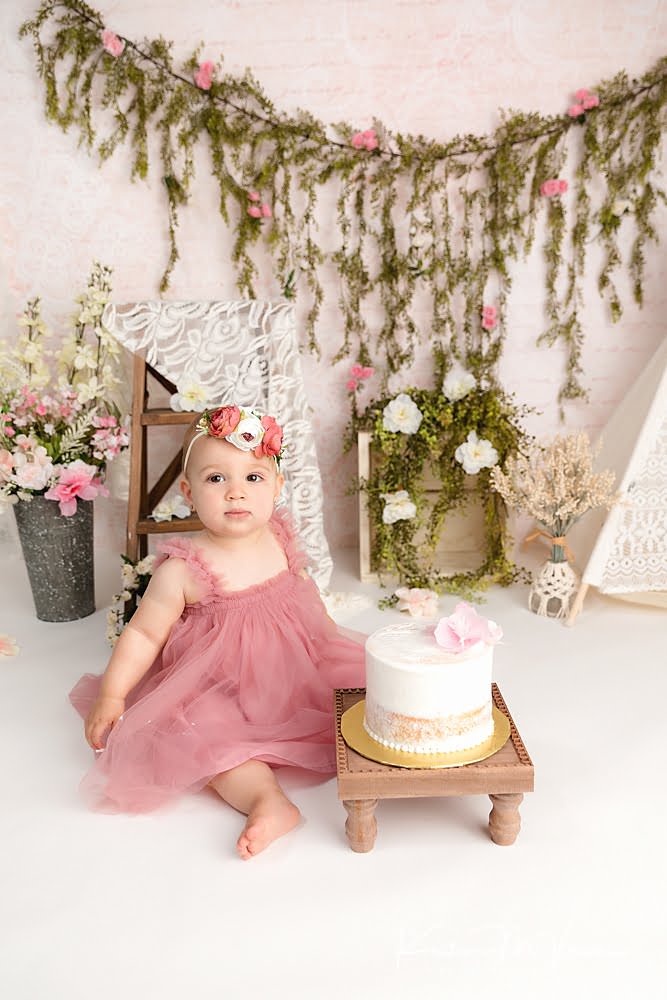 The Flash Lady Photography is a full service studio located in Greater Hartford specializing in maternity, newborn, baby, child, and family photographs. We create special memories out of your lifecycle events including creative maternity and newborn sessions, personalized first birthday celebrations and cake smashes, and family and holiday portraits! We also support local small businesses and professionals with custom headshots for your professional needs. We are conveniently located in central Connecticut with easy access to major highways and plenty of on site parking. Please use our website contact form to contact us about planning your special photography session! We look forward to working with you!