Duck Cake Smash | Newington, CT
Another one of my Annual Review Plan graduates is turning one! This time it was Miss Julia's turn to visit my Newington, CT photography studio for her Duck Cake Smash, or as I like to call it, "Rubber Duckie…You're the ONE!". Hahaha! In the blink of an eye she went from her newborn photoshoot to her 8 month sit up session and now to her cake smash! For a while Mom wasn't sure if she wanted to do a cake smash or not. The little miss is VERY much ok with staying by Mom's side all of the time and we knew there was a possibility she'd have a little more trouble being on her own. But believe it or not, because we had to postpone her photoshoot a few months due to COVID-19, I think that extra time helped her! And of course, I always schedule photoshoots one at a time so if we need a little extra patience with a child there is no rushing! So on the day of the big smash, we made sure to have them come early to give her time to explore and settle in. That really helps some babies a lot and can be the difference between an amazing session and a fail! And the rubber duck cake smash was absolutely perfect for a little one that's unsure also because it gave her something to do which meant less focus on where Mom was! We started by having her help "clean up" by putting all of the little ducks in the bathtub. Little by little she warmed up (plus I use a clear mask so kiddos can see my face!) and with some balloon play added in we were a hit! Cake smashing time was so much fun! She loved the cake (not so much on the frosting which is usually the opposite!) and happily played and gave us a ton of cute and funny expressions too! After a quick bath to get all of the frosting off we were all done! Her gallery ended up being adorable (we didn't even need the "safe photos" from our warming up period!) and I love the favorites that Mom chose! Check them out below and let me know which is your favorite!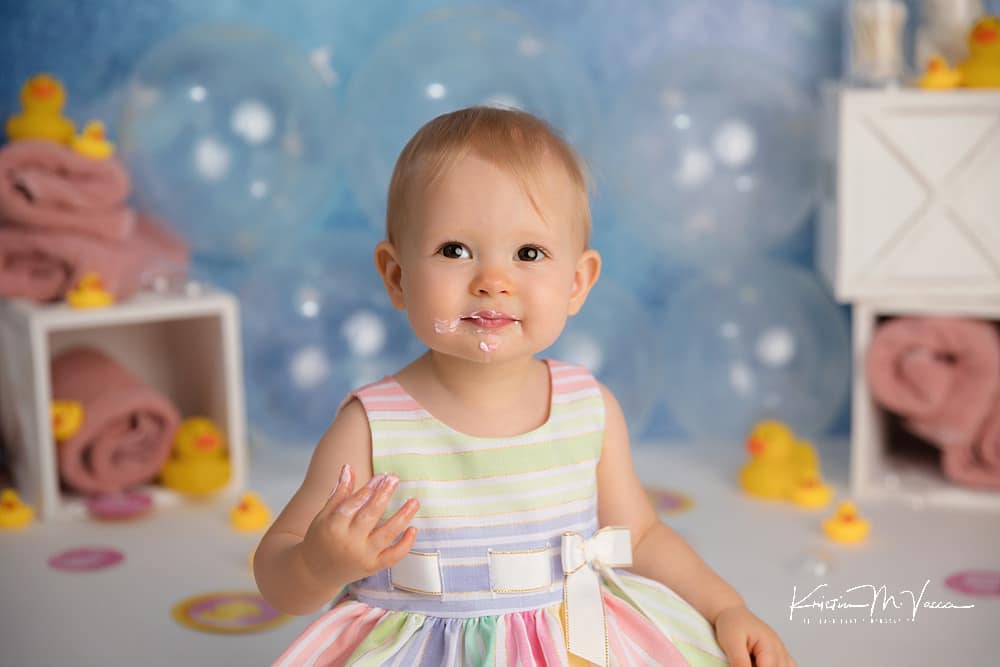 The Flash Lady Photography is a full service studio located in Greater Hartford specializing in maternity, newborn, baby, child, and family photographs. We create special memories out of your lifecycle events including creative maternity and newborn sessions, personalized first birthday celebrations and cake smashes, and family and holiday portraits! We also support local small businesses and professionals with custom headshots for your professional needs. We are conveniently located in central Connecticut with easy access to major highways and plenty of on site parking. Please use our website contact form to contact us about planning your special photography session! We look forward to working with you!