Camping Outdoor Cake Smash | West Hartford, CT
Our camping outdoor cake smash is one of my most requested themes because it is so versatile! We can use the common set up, or we can add different animals, fishing, or anything else to customize for the client's liking! This is a big reason why I love customizing for my clients with my themes instead of having all backgrounds with props built in. It makes it much more realistic, enhances the curiosity for the child, and gives us that ability to grow our themes as we have new requests! This little man was ready for his first birthday session at my Newington, CT studio! He's already walking and ready to explore with an older sibling at home. The only thing we had to get past – some stranger danger upon arrival! We've noticed this quite a bit more often and earlier with our babies born during or soon after the COVID pandemic, who are just not used to seeing as many people outside their immediate family as they might have by this point. So, it's really important to make sure that we're letting our babies and toddlers get used to this new surrounding, especially because everyone around them still needs to be wearing a mask. Mom had warned me ahead of time that it was a good idea to not make eye contact right away and she was right! But once we had some time exploring the studio and my set, he was happy to engage with our silly noises and mom & dad's dancing behind me! And he LOVED my wood pieces (most toddlers do!)! It's a good sensory distraction during our pre-cake portraits period. We then brought out the cake and let him have a little taste. Right away he was ready for some cake-time with a yummy cake from Betty's Cake Creations! And with his added developmental qualities, he was very advanced with using his own discovered tools and items within the cake to eat it! We had so many adorable expressions from him and he probably would have sat there all day eating! At the end of the photoshoot, it was bath time to clean off and get a few more sweet photos! He loved splashing around and playing with the ducks! We had so many choices for his parents, and they were so happy to have so much variety to enjoy. Stay tuned for another photoshoot with this cutie as he celebrates the Korean side of his birthday celebration in just a few weeks! For now, let me know your favorites from this camping outdoor cake smash session!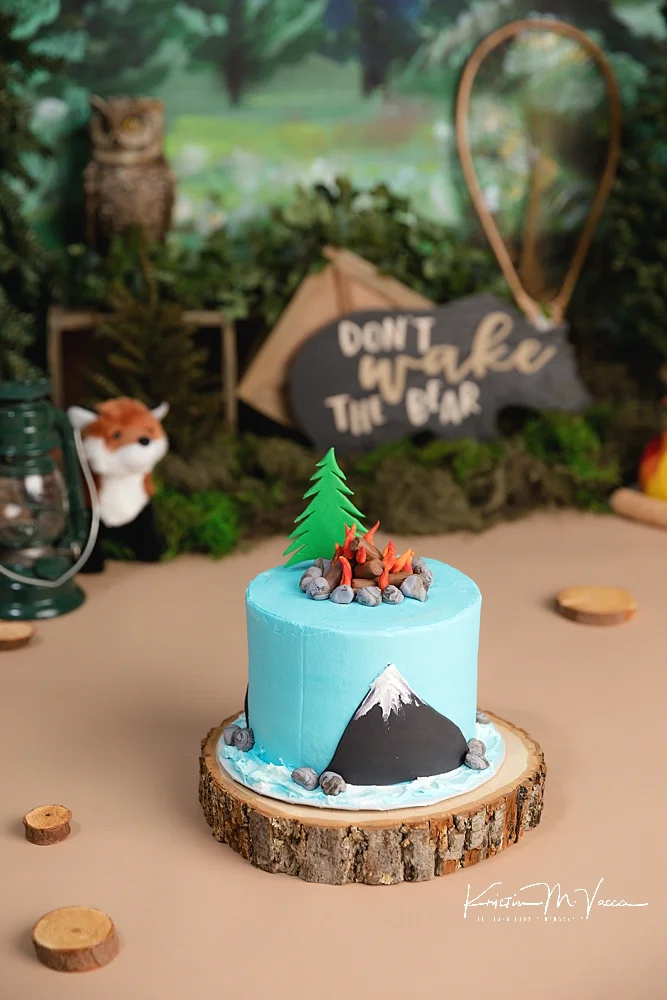 The Flash Lady Photography is a full service studio located in Greater Hartford specializing in maternity, newborn, baby, child, and family photographs. We create special memories out of your lifecycle events including creative maternity and newborn sessions, personalized first birthday celebrations and cake smashes, and family and holiday portraits! We also support local small businesses and professionals with custom headshots for your professional needs. We are conveniently located in central Connecticut with easy access to major highways and plenty of on site parking. Please use our website contact form to contact us about planning your special photography session! We look forward to working with you!