Baby Boss Cake Smash | Marlborough, CT
We love when clients ask for new themes they can plan with us to make something amazing for their child's first birthday! When this Mom contacted me she immediately was interested in a Baby Boss cake smash and gave me creative reign to come up with some adorable! The great thing about mixing and matching themes is we can come up with something new using more neutral backgrounds and themed props. And thanks to The Kakery for designing a cake to match what Mom & Dad were hoping for! Now if there ever was a baby that matched the Baby Boss theme to a T, it was this little man! Complete with an adorable tux outfit and suitcase, he was ready to be photographed! I couldn't believe how many little smiles and grins he gave us! From posing with Mom & Dad, to walking around finding baby bottles, he was made for the camera! Now when it was cake time – he just didn't want to get dirty! This is completely normal and sometimes babies just aren't used to that type of messy play. After all, all they know thus far is their parents cleaning up after them! But never fear – bath time was here to save the day! Splashing was his middle name, and he loved getting soap and water all over while I still was taking pictures! We had a great time and I love how amazing his session favorites looked in a beautiful heirloom album for his family to enjoy forever! I hope to see this little guy back with all of his smiles for a future session!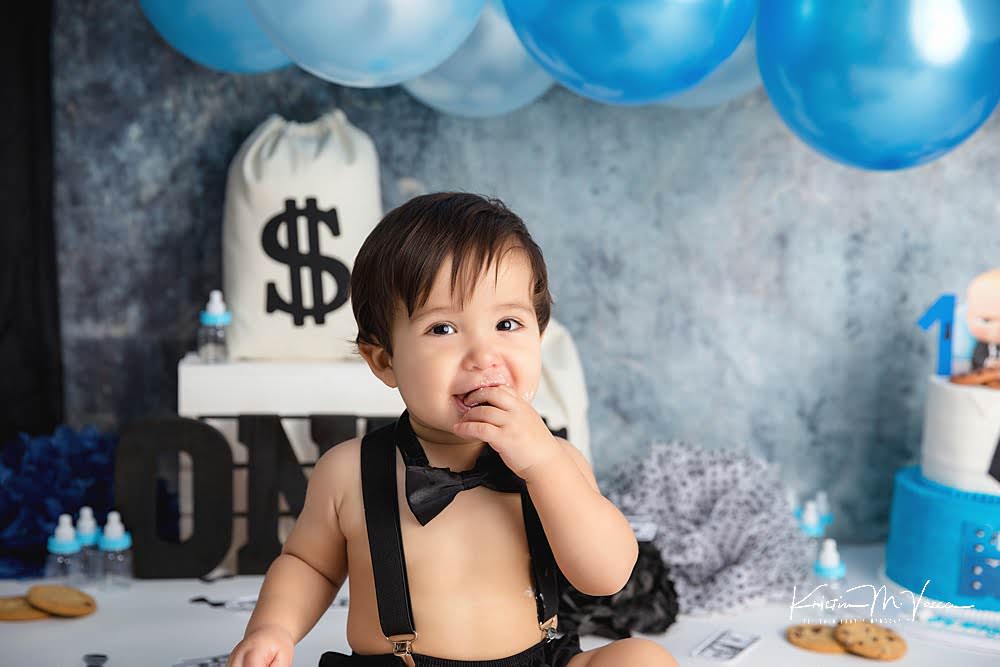 The Flash Lady Photography is a full service studio located in Greater Hartford specializing in maternity, newborn, baby, child, and family photographs. We create special memories out of your lifecycle events including creative maternity and newborn sessions, personalized first birthday celebrations and cake smashes, and family and holiday portraits! We also support local small businesses and professionals with custom headshots for your professional needs. We are conveniently located in central Connecticut with easy access to major highways and plenty of on site parking. Please use our website contact form to contact us about planning your special photography session! We look forward to working with you!